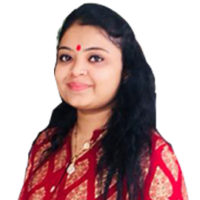 Ms. Nimisha Chauhan
Principal - Special Educator
Ms. Nimisha Chauhan is a graduate and has done her Dip. in Spl. Edu. for the mentally retarded from NIMH University, Secunderabad.
In her early Education period, she bagged the first rank in the state of Gujarat in Senior Secondary Examination. She has attended numerous seminars related to the Education of Special Children. She has been working with such children for the past six years. Undoubtedly, Ms. Nimisha has devoted herself solely to render proper Education to children with special needs.
Her involvement and dedication are praiseworthy. It had been a cherished desire to build up an institution of her own to help out the needy. No doubt "Sai Foundation" is her "Dream come true". She is the Founder Principal of the foundation and is also involved in giving training to shadow teachers. At present Sai Foundation has nearly 32 qualified Special Educators working as shadow teachers in different schools.
It is needless to say that it is Ms. Nimisha who supervises their work giving them timely guidelines. Sai Foundation works for the overall development of those suffering from Autism, Down syndrome, Dyslexia, Slow learners, Learning Disabilities, Delay Development, Cerebral Palsy, Hyper activity, etc providing all therapies according to the needs, and is an expert in ADL and writing activities. Sai Foundation has a long way to go in the safe hands of Ms. Nimisha Chauhan.